Hyundai Tire Center in Tuscaloosa, AL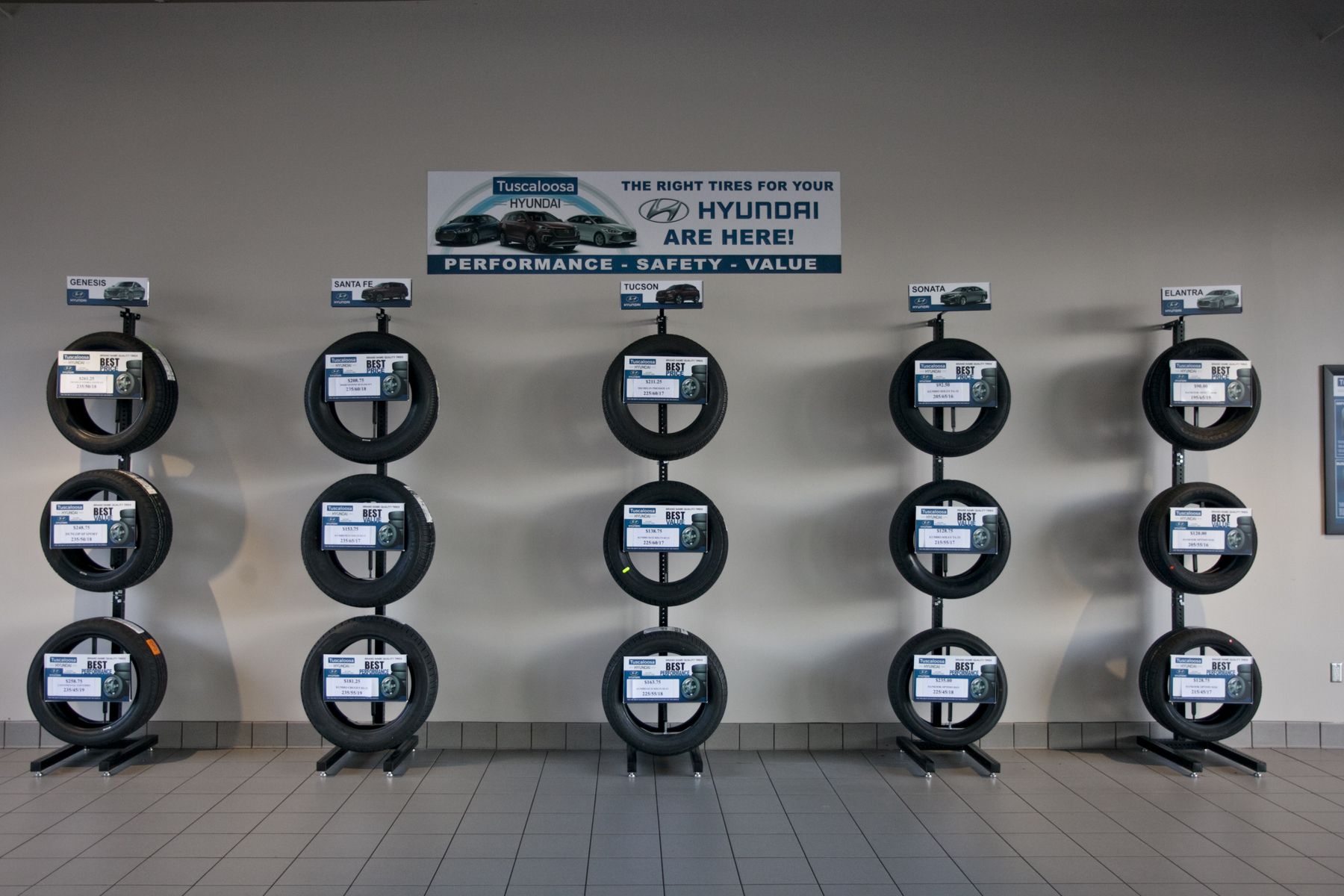 Hyundai Tire Service & Replacement in Tuscaloosa, AL
We all know that vehicles need maintenance. When your gas light comes on, you get gas. When your brakes start squeaking, you get them checked. When it comes to your tires, however, sometimes it's difficult to determine if there's a problem. You might have a screw lodged into your tires that you don't realize until you walk out of the house one morning and find that your tire is flat. We've all probably been in that situation at one point in our life.
Not only is there a concern about picking up unwanted items on your journey, there's also the issue of worn tread on your tires. By using older, worn-down tires, you put your car under greater strain. This also negatively impacts your gas mileage. The next time you take a look at your vehicle, be sure to examine the tires. If you notice anything wrong or if your ride feels a bit bumpier than usual, don't hesitate to bring your car to Tuscaloosa Hyundai.
What Tuscaloosa Hyundai Can Do for You
At our dealership, we know how important it is to offer a top-quality service center for our shoppers. We understand that life happens and repairs are needed. That's why we happily have highly-trained specialists in our service department who can thoroughly examine and inspect your automobile – even your tires as well.
If it's determined that you're in need of a new set of tires, we'll provide you with options. Our primary goal is for you to drive a safe and dependable vehicle on the road. We want to take every precaution necessary to ensure each drive you take is memorable and safe.
Come see the experts at our service center today at Tuscaloosa Hyundai!
Discover More Auto Care Tips: Make Sure Your Tires Are Road Safe
Tire Specials at Tuscaloosa Hyundai
When you choose our dealership, you'll find that we offer great deals when it comes to service and maintenance. Our specials are only for a limited time, so don't miss your chance to save big. Stop by our service department today. Don't miss out on your chance to take advantage of our incredible savings.
We are conveniently located at 3831 Hargrove Road East, Tuscaloosa, AL 35405 which means residents of Alpine Hills, Coaling, and Peterson are only a short drive away. During your visit, our team of experts will take a look at your tires, fill you in on your options, and show you around. Who knows – you might want to take a test drive while you're here. We look forward to seeing you soon.