The Spacious, Sophisticated Hyundai Palisade in Tuscaloosa, AL
Hyundai delighted families when they released the Palisade in the summer of 2019, as the spacious SUV brought an unprecedented level of convenience and comfort to the eight-seater vehicle market. The Palisade was introduced as the manufacture's new flagship sport utility vehicle, and it comes well prepared for the role with incredible interior space, smart technology, and reassuring safety features.
While the Palisade is the largest SUV in Hyundai's lineup, it handles with grace and provides plenty of power for highway driving. Whether you're hitting the road with a cabin full of family or just running errands through Tuscaloosa, the Palisade's variety of infotainment features is sure to keep everyone engaged mile after mile.
If you would like to take a closer look at the Palisade, we welcome you to come check it out at Tuscaloosa Hyundai. At our dealership, you can test drive this well-rounded SUV, and we can also discuss all the trims and features available to customize your Palisade.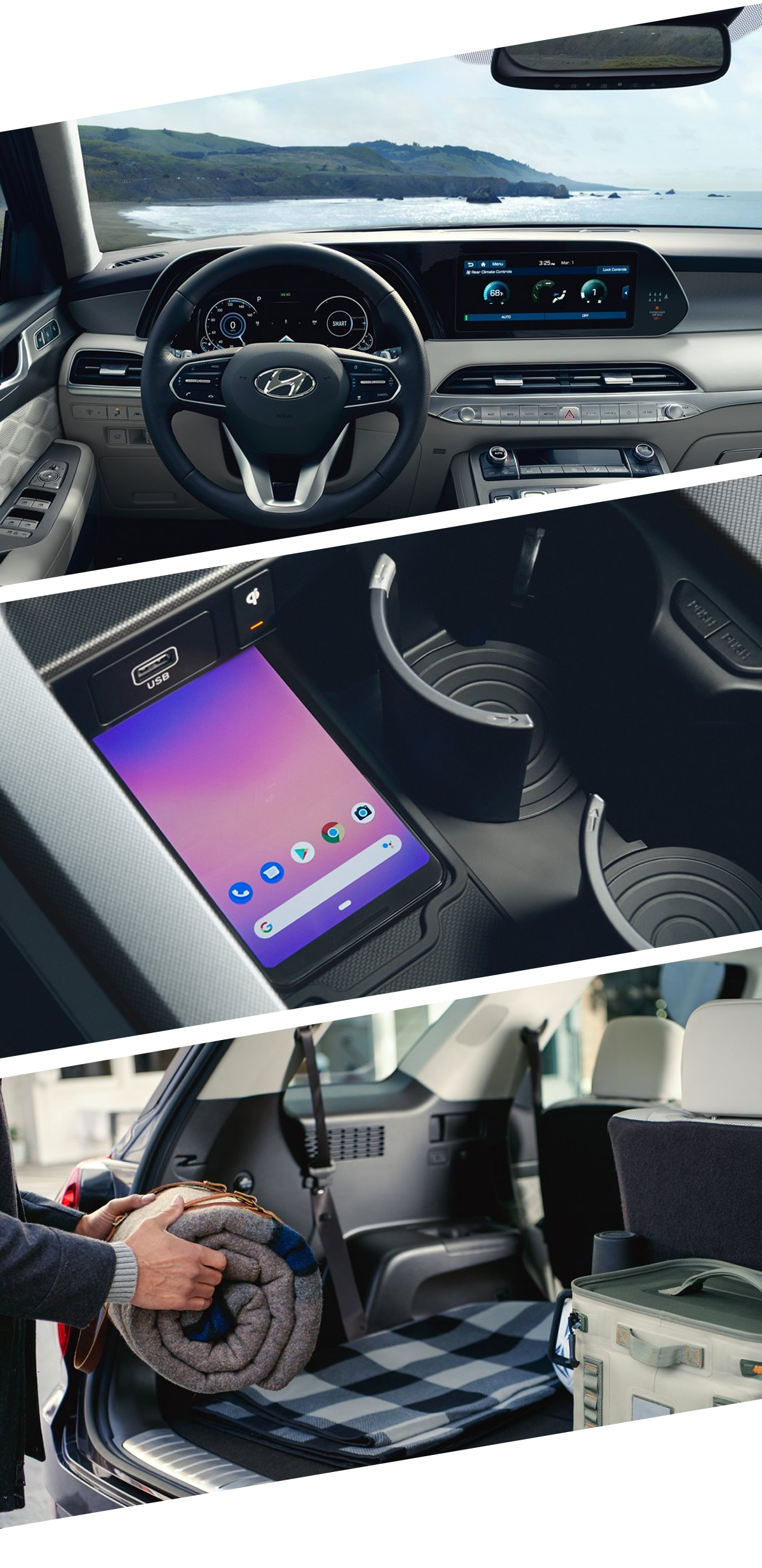 What's New in the 2022 Hyundai Palisade?
New updates for the 2022 Hyundai Palisade include a now standard safe exit assist, rear cross-traffic collision avoidance assist, and blind-spot collision avoidance assist. Additionally, the dark-brown leather upholstery is no longer offered in the Calligraphy trim.
The three-row 2022 Palisade houses an 8-inch infotainment system with the option to upgrade to a 10.25-inch screen. Additional technological and entertainment features include Drive Talk and Quiet Mode, wireless device charging, Apple CarPlay® and Android Auto, Ultrasonic Rear Occupant Alert, and navigation, among others.
The Palisade features a 3.8-liter V6 engine that generates 291 horsepower. It is paired with an eight-speed automatic transmission.
History of the Hyundai Palisade
Hyundai unveiled their new eight-seater SUV at the Los Angeles Auto Show in 2018, and it arrived on American roadways the following summer. Introduced to fill a spot freed up by the roomy Santa Fe XL, the Palisade distinguishes itself from the XL with its new technology and increased size, offering more infotainment and safety options than ever before.
When the Santa Fe debuted in 2001, it released as Hyundai's first SUV, intended to compete directly with the Ford Escape. Its impressive performance and approachable price tag made the SUV a sudden success in the U.S., and Hyundai spent the next two decades designing fresh adaptations to stay ahead of market trends and the changing needs of American drivers. The larger Santa Fe XL appealed to families with its safety provisions and comfortable interior. Even as the standard Santa Fe released with a new generation as of 2019, Hyundai ended the XL's run to make room for their fresh take on the SUV class.
Find the Palisade at Tuscaloosa Hyundai
If you think that the Palisade is the right SUV for you and your family, we encourage you to come try it out at our dealership. When you arrive at Tuscaloosa Hyundai, we would be happy to show you around the lot to browse our inventory. Our knowledgeable team members can answer any questions you might have about our Hyundai lineup, and we can also help you find a great deal with our new vehicle specials.