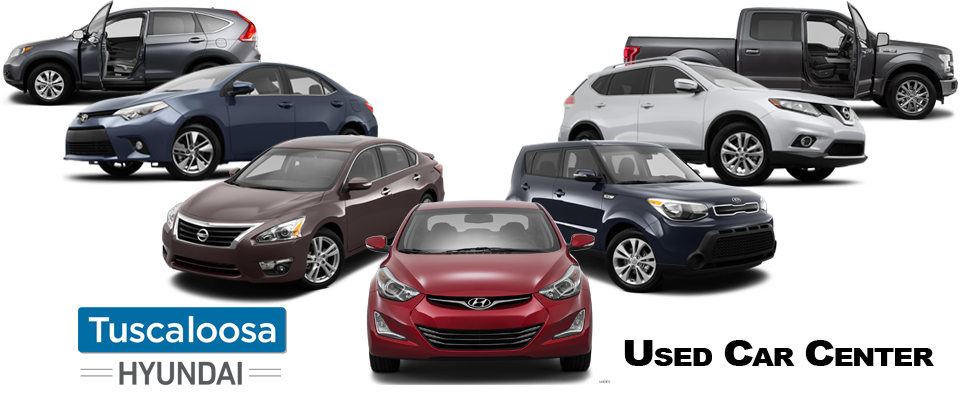 Used Cars for Sale in Tuscaloosa, AL
If you're seeking a unique vehicle to match your personality or your style, Tuscaloosa Hyundai has plenty of options for you to choose from. At our dealership, we understand the importance of stocking a large inventory with a wide range of vehicles that appeal to a variety of shoppers. Our customers are diverse, always searching for vehicles to meet their particular wants and needs. That's why our inventory usually consists of cars, trucks, and SUVs from different manufacturers.
What's even better than finding that perfect vehicle? A low price, of course. At our dealership, we also provide numerous ways to save big, including specials and low-priced inventory.
If you're looking to save big, the best place to start is by checking out our pre-owned inventory. Browse our online selection of used vehicles to find one that's right for you. You can even use our handy filters to narrow down your search. Once you've made your choice, stop by our dealership to see your vehicle in person.
Why Buy Used from Tuscaloosa Hyundai?
When you choose to shop at Tuscaloosa Hyundai, you'll get more than just a great deal on a used vehicle. Not only will you save lots of money on your purchase of a pre-owned vehicle, you'll also be able to take advantage of all of our many benefits. Some of the many perks we have to offer customers include:
Our pre-owned inventory includes several sections of low-priced vehicles such as: vehicles under $10k, vehicles from $10,001 to $15k, and vehicles from $15,001-$20k.
Managers at our dealership always try to seek out and stock our selection with popular, diverse vehicles that are late model, low mileage.
We provide a reliable, top-notch service center for all of your maintenance and repair needs.
Our Finance Center helps you with your financial needs when it comes to purchasing a vehicle.
As you can see, we take care of our customers at Tuscaloosa Hyundai. If you have any questions about our specials, don't hesitate to contact us. Our friendly associates will gladly assist you and help answer your questions.
We are conveniently located in Tuscaloosa, but we're also just a quick drive from Birmingham. Come visit us at 3831 Hargrove Rd E, Tuscaloosa, AL 35405.